Whilst the recipe is an important factor in bread making, it is by no means the deciding one. Good bread making also relies on an understanding of which ingredients to choose, how to prepare them and on mastering the skill of handling and kneading the dough...
It's All about Bread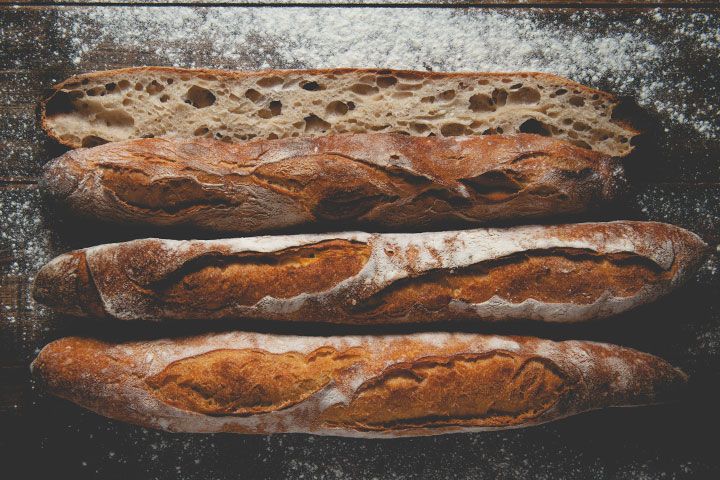 Traditional French Baguettes.
At Le Gargantua, we have created this exciting French Bread baking course, so that you can learn how to make baguettes, classic loaves, sourdough bread, regional speciality breads and brioche. Those attending our bread course will be able to take the skills they learn and recreate a range of wonderful baked goods at home.
The main reason why this is possible is that during this bread course, we only use domestic cooking equipment so that you learn how to bake delicious bread with the equipment that you already have in your home. It's just one of the things that makes our French bread course so popular.
New for 2024
What you'll learn
During our intensive bread course, you will practice each of the different kneading techniques used to make different types of French bread and become acquainted with the different rising agents such as fresh yeast, poolish and sourdough starter. You'll also discover the different proofing conditions (single or double proof, at room temperature or in the fridge) and get to use the various fillings needed to create a classic loaf, traditional baguette, sourdough, fougasse and brioche.
You Make, You Bake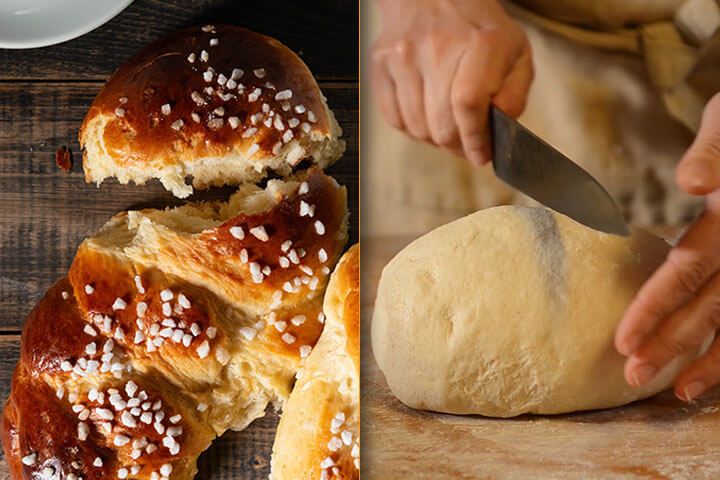 Hands-on with Brioche Dough.
Just like with our seasonal cooking and patisserie courses, our bread course is fully hands-on and will have you measuring, mixing and hand-kneading from the outset. There's no demonstration-watching here, as you learn so much more when you get stuck-in and fully involved. You will be taught the hows and whys, as well as the role each ingredient plays so that you gain a comprehensive bread baking knowledge that will last you a lifetime.
If you read the labels of mass-produced bread from the supermarket, you'll see that they can contain as many as 20 different ingredients, additives and preservatives. The flours we use are sourced from a local mill and are mostly organic, so they are as pure as nature intended and you'll even get the chance to take some home with you! Eating home-made bread comes with an array of health benefits and there's a certain enjoyment and satisfaction that comes with making it yourself, so we hope we can tempt you into joining us for a fun and educational experience.
All this baking gives us the perfect excuse to introduce you to some of the finest local delicacies to accompany your various breads. You'll be presented with a selection of fine cheeses, foie gras, charcuterie, spreads and dips to enjoy with your baskets of baked goods, as well as mouthwatering aperitifs and local wines to turn your bread course baking experience into an authentic immersion into French food and lifestyle.
Course Itinerary
Day 1
Your first day will start from 4 pm and you'll have the time to settle in and make yourself at home. You'll then meet your fellow bread course classmates before dinner with a welcome drink, perfectly complemented by a selection of canapes before moving on to enjoy a delicious three-course dinner.
Day 2
After breakfast, we meet in the kitchen at around 9 am for a detailed presentation of the ingredients and the different steps involved in bread-making. Then we will go on to prepare a quick bread dough, a sourdough and a baguette dough, before breaking for lunch at around noon.
At 1 pm, we then head back to the kitchen to use the quick dough to create a traditional fougasse and olive (or other filling) bread. We finish in the kitchen at 4 pm, so you will have time to relax before we meet up again at 7 pm for an aperitif before dinner.
Day 3
We meet in the kitchen after breakfast to make brioche dough and we will also shape and bake traditional baguettes. After lunch, we get straight back in the kitchen to finish off our sourdough loaf and to shape and bake our brioche which you'll enjoy with your afternoon tea. You will then get some more time to relax until we leave to go out to dinner at the most charming local restaurant.
Day 4
Sadly, this is the end of our bread course and the day you will leave us. Your room is yours until 11 am if you have your own vehicle, but if you don't, drop off at Tonneins stations is at 7.45 am. Whichever way you depart, you will leave with your freshly made brioche in your possession to enjoy when you get home.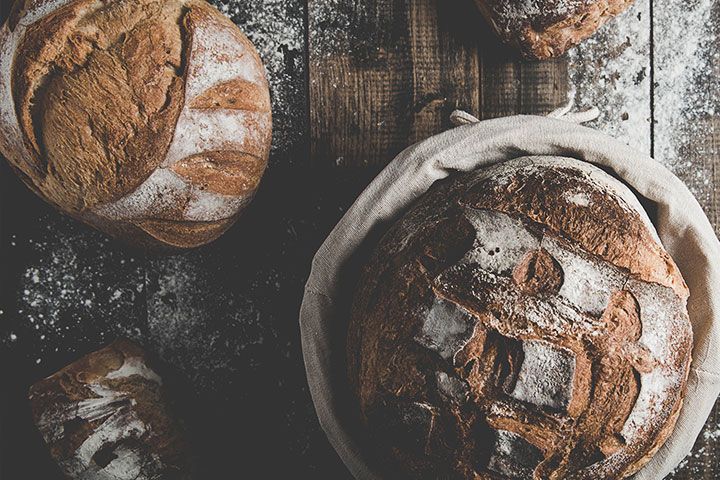 A variety of Sourdough Loaves.
Those who attend our French bread making course will get to cook, bake and eat their own delicious bread and be taught both the theory behind bread baking and the hows and whys of dough structure and how each ingredient used has a purpose. It's a French bread course designed to educate the mind, stimulate the senses and give you a life-long appreciation and love of baking bread.
We hope very much to see you soon.