New for 2024
3 NIGHTS RESIDENTIAL PATISSERIE COURSE
For those shorter on time, this baking vacation spans over 2 days and 3 nights, where you'll delve into some of the essential techniques behind classic French pastries. Along the way, a little charming outing, allowing you to savor the ambiance of the picturesque southwest region.
Choose your preferred start date, as we offer check-in options on both Sundays and Tuesdays.
Minimum of 2 people sharing.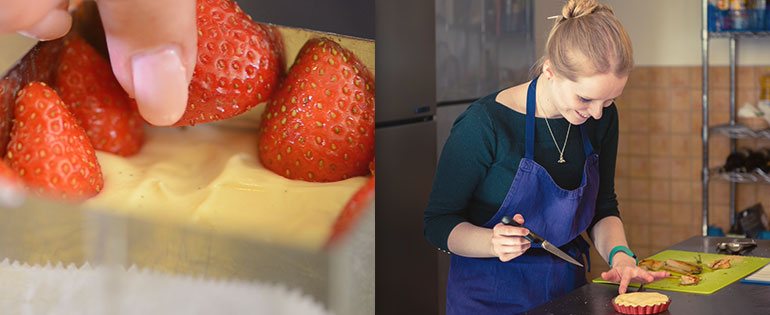 Day 1
Arrival from 4:00pm. You just settle in and make yourself at home. We meet before dinner for a welcome drink with canapés, followed by a three-course dinner.
Day 2
After breakfast we go to a local patisserie (applicable for Sunday or Thursday check-ins), to sample a few classics with a nice cup of coffee. This will give you a precise idea of the presentation we will be aiming for when we reproduce them in our kitchen. We come back for lunch. At 1.00 pm, we meet in the kitchen, to create our own pastries, which will be served for dessert that very same night. We will be in the kitchen until 4:00 pm, so you will get some time to relax or drive to town if you wish. We meet up at 7:00 pm for an aperitif before dinner. (please note that if your "day 2" is a Wednesday and a 5 nights course is on that week, the outing will be to the chocolaterie in Nerac, not a patisserie).
Day 3
After breakfast we meet in the kitchen, to start baking. We will stop for lunch and get back to the kitchen to finish our pastries. You will then again get some time to relax before the aperitif and dinner. Once again, your creations will be served for dessert that very same night.
Day 4
Departure is in the morning on Day 4. The room is yours until 11.00am if you have your own vehicle, but drop off to Tonneins station is for the 8.10am train..
Examples of what we make: chou pastry (éclairs, religieuses, paris-brest, saint-honoré or croquembouche), shortcrust and sweet pastry, berry tarts, macaroons, millefeuille, traditional apple tart, bavarois, tarte tatin, croissants, pains au chocolat, bread and brioche.
DAY COURSES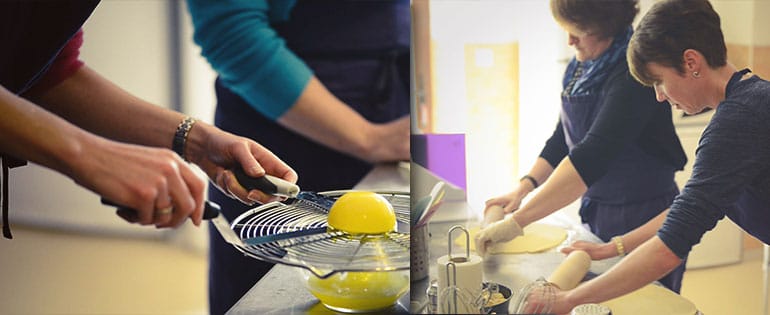 If you are in the area, you can join us for half a day or for a whole day of patisserie course. The booking of a day or afternoon course will not include any accommodation nor transport apart from the planned and agreed excursion.
One-Day Course
Arrival around 9:00am and we head straight to the kitchen for a first baking session or planned excursion. You enjoy lunch around 12:00 with some local wine. We meet in the kitchen at 1:00pm to bake. From 4.00pm you get free time to go for a walk or a drive, or to just relax in the lounge or in the garden. We meet at 7:00pm for an aperitifs and nibbles before dinner, which will be served at 7:30pm. You can then enjoy the fruit of your labour for dessert.

This day course includes all excursions where applicable in the morning, lunch with wine, and baking workshop, all ingredients, aperitif, 3 course dinner with wine, and coffee, tea and cold drinks throughout the day.
Contact us with your dates
Non Residential Courses
You can now join us as a non-residential participant - ideal if you are in visiting the area and are happy to organise your own accommodation. You'll also need to have a car to get to us. Everything apart from the accommodation is included, the patisserie tasting, the chocolatier visit as well as the meal out, the lunches, evening meals and leaving goody bag. For information on availability, please contact us.
Check airbnb or Booking.com for available local accommodation.