It might be the result of a natural progression in our life. It might be a decision to balance our meals in a healthier way. It might also come from the increased consciousness of what our planet could benefit from. The fact is that we, as a family, have progressively changed the way we eat...
Although meat and fish are still on our menu a few times a week, we have noticed the positive impact of the prominent role that vegetarian cuisine plays in our lives..."
5 NIGHT RESIDENTIAL VEGETARIAN COURSE
Our latest culinary holiday consists of a vegetarian cooking course, to help you diversify your diet and introduce more pulses, cereals and vegetables into your day to day cuisine. This vegetarian course is aimed at flexitarians who wish to get the best of the seasonal produce. I will help you master various techniques to cook vegetables so you happily let them take over the main role in your meal every so often.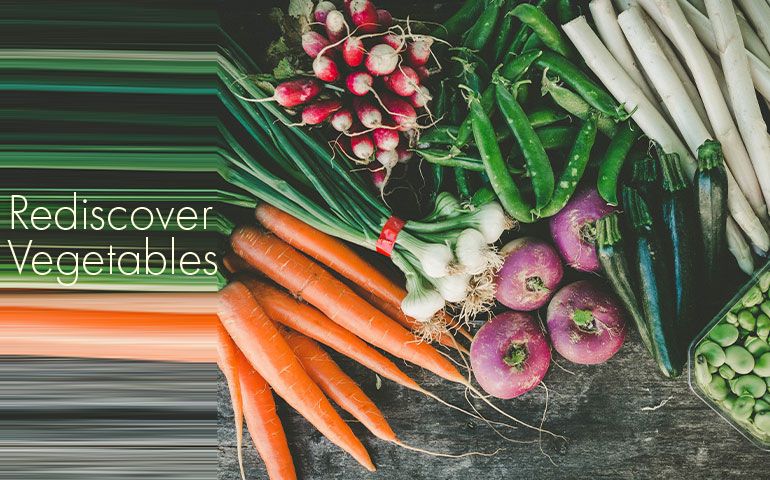 So, Why LE GARGANTUA Cooking school?
The south west of France grows an abundance of fruit and vegetables and the local cuisine naturally uses them all to their very best. Our vegetarian course will see you prepare among other gems Marmande tomatoes, Nérac melons, asparagus, hazelnuts, peppers and courgettes, incredible goat and sheep cheese. We all need to reconnect with the seasonality of local produce to be able to rediscover how the fruit and vegetable should taste when picked ripe and sold fresh.
Our little part of Gascony boasts two excellent markets nearby as well as farms, and you will enjoy the sight of the local countryside and picturesque villages during our excursions to select the freshest and tastiest local vegetables.

WHAT KIND OF CUISINE?
We will use our market finds to prepare classic dishes from France such as soufflés, quiches, tarts, stews and sauces, but also from Italy including fresh pasta or ravioli, gratins and focaccia, from the Middle-East with flat bread and roasted vegetables with spices, or from India with dahl, vegetable curry or beautifully fragrant potatoes.

Some of the dishes we cook together will be not only vegetarian but vegan, all coming together very naturally, without any pressure of an agenda. Various breads will be on our menu in the form of pizza base or flat bread or tortillas, accompanied by dips, spreads or terrines.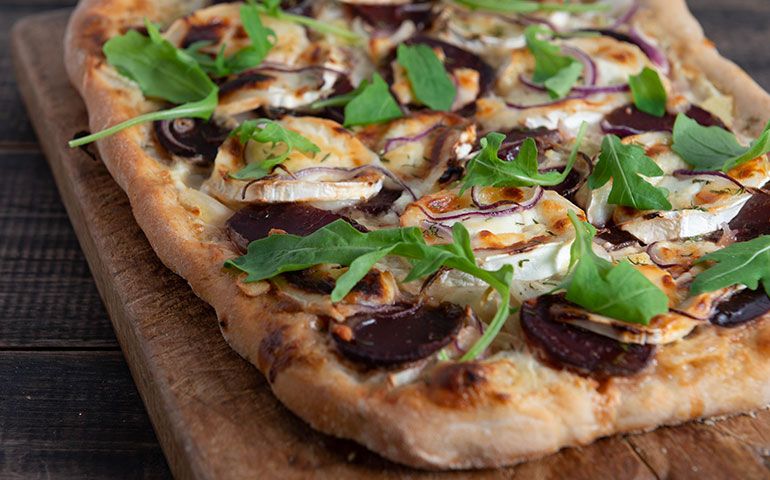 Examples of actual dishes we prepare together could include a white pizza, a vegetable crumble; for an exotic twist: spicy roasted vegetables, batata harra, tabbouleh, red lentil dahl with coconut milk and oriental flat breads; for a modern route: vegetarian burgers and salsas; and because a cooking course in France wouldn't carry much sense without traditional French dishes, a traditional ratatouille (or similar), "soupe au pistou", a quiche or a savoury tarte tatin as well as different sauces and vinaigrettes to jazz up any salad, pasta or potato dish. We will make dessert every day too for dinner.

This is not an exhaustive list, just a sample to give you an idea of what to expect. The dishes we will make together will depend mostly on the fruit and vegetable available at the time on market.
What you will learn
All of our cooking together is from scratch and fully hands-on. The main point of your participation in our vegetarian course is that you won't just learn to replicate a selection of recipes but learn the hows and whys so you acquire an understanding and a confidence that will allow you to develop from your cooking experience with us.

We will aim at covering most cooking techniques in the likes of steaming, blanching, frying and baking but our vegetarian course will also reveal which produce should be served together, left raw or cooked at a certain temperature or even a certain way. You will find out the best technique to prepare them to get the full benefit of your fruit and vegetables on a nutritional aspect.

You will also take home an understanding and experience of bread making and how to build a sauce, in true French style.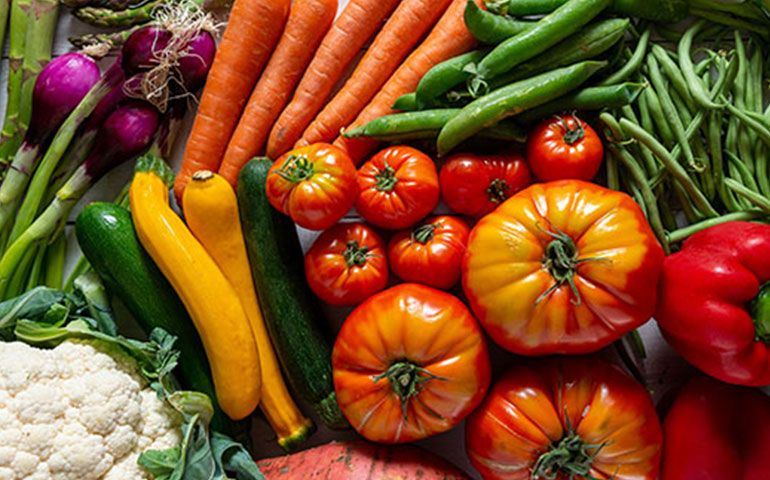 Course Itinerary
Sunday
Arrival from 4:00pm. You just settle in and make yourself at home. We meet before dinner for a welcome drink with canapés. You will then enjoy a three-course dinner.
Monday
We meet in the kitchen after breakfast, at around 9.00am. We will prepare lunch together in the shape of soup and individual white pizza, which you will enjoy around noon.

We come back to the kitchen after lunch around 1.00pm to prepare dinner, which will consist of focaccia or fougasse for aperitif, followed by three courses, French style.

We will cook for about 3 hours, so you then get some time to relax or to drive to town. We meet for aperitif at 7:00pm, and head back to the kitchen for the last-minute prep if necessary. You are invited to pop into the kitchen to plate up each course, but you can do as little or as much as you like.
Tuesday
We leave after breakfast to go to a market and/or visit a producer to get some of our ingredients. We will also make a few detours on the way to see the pretty villages of the area. We come back for lunch.

At 1.00pm, we meet in the kitchen, where everyone gets involved in a real team effort to prepare an Italian three-course dinner. All we can say is that there will be fresh pasta!

We will finish up around 4:00pm, so there again, you will have plenty of time to rest or go for an explore if you have a vehicle. The local spa is only 10 min drive!
We will meet again around 7:00pm to enjoy an aperitif together before you enjoy your Italian meal.
Wednesday
We leave after breakfast to go once more to a market and/or visit a producer to get some of our ingredients. Again, you come back to a prepared lunch.

We regroup at 1:00pm in the kitchen to cook a three-course dinner, oriental style. Plenty of nibbles to start with, as well as a multiple-dishes main course with flat bread and a dessert. We will cook until 4:00pm
We meet three hours later to enjoy your nibbles around a nice drink before you bring out the fruit of your labour and indulge in your Oriental meal.
Thursday
We meet in the kitchen after breakfast, around 9:00am. You will be making vegetarian burgers for lunch. We will pick from our market finds from the previous day to prepare a nice salsa and a salad to accompany it. We will also make a few sauces to give everyone options.
Your lunch should be ready for noon.
After lunch we shall leave for Nérac to visit the chocolaterie - the very place that inspired Joanne Harris's novel 'Chocolate' (please note: the shop remains closed in July, but we'll still be able enjoy of the below). We'll pick a selection of chocolate, both pure origins and confectionary specialties. Moving on to the historic part of town we'll take a leisurely stroll along the riverside, crossing the ancient bridges, leading us through the winding cobbled roads and paths, which will take us to the main 15th century chateau, across from where we'll enjoy a glass of champagne, or two, and of course, the chocolate. In good time, we shall return home to relax and put our feet up.
That evening, we leave around 7:30pm to go out to dinner at the finest local michelin recommended restaurant for a special evening meal.
After your well-deserved rest, we meet at 7:00pm for aperitifs. Your dinner will be served and as every night before, you will be invited to participate in the last-minute cooking as well as the plating-up.
Friday
Departure is on Friday morning. The room is yours until 11.00am if you have your own vehicle but we have to leave at 7:20am for the drop off to Tonneins station if you require the shuttle service.
This vegetarian course is not destined to convert you to strict vegetarianism but to help you become at ease with vegetarian cooking as a diversification of your diet. I do not have the pretention to teach you how to balance your diet, only a nutritionist has that knowledge. However during your stay with us, you will be preparing a mix of raw and cooked food, a healthy balance of pulses, cereals, vegetables and fruit, lots of fresh herbs and leaves, as well as an interesting selection of organic oils and vinegars.