Both Cooking & Baking for many come hand in hand. So for those of you that have a passion for Cooking & Baking why not join us on a combined week of the two.
New for 2024
Mixed Week Itinerary
Sunday
Arrival from 4:00pm. You settle into your room and we meet up for drinks and canapés at 7.00pm to discuss our program. You then enjoy a three-course dinner.
Patisserie Course
Day One
After breakfast we go to a local patisserie to sample a few classics with a nice cup of coffee. This will give you a precise idea of the presentation we will be aiming for when we reproduce them in our kitchen. Lunch will be ready upon our return back home.
At 1.00 pm, we meet in the kitchen, to create our own pastries, which will be served for dessert that very same night. We will be in the kitchen until about 4:00 pm, so you will get some down time to relax before we meet up at 7:00 pm for an aperitif & canap&eacutes followed by dinner.
Day Two
After breakfast we meet in the kitchen to start baking. We will stop for lunch and get back to the kitchen to finish our pastries. You will then get some time to relax and put your feet up before the aperitif and dinner. Once again, your creations will be served for dessert that very same night. We set up a little photobooth everynight for you yo take photos of your bakes and culinary creations to share with your friends and family. We'll also take a few photos of your bakes to show off on our socials - to be seen by the world!
Cooking Course
Day One
We leave after breakfast to go to a market or visit a producer, to get our ingredients. We will also make a few detours on the way to see the pretty villages of the area and stop for a coffee. We'll be back home just in time for lunch.
At 1.00 pm, we meet in the kitchen, where everyone gets involved in a real team effort to prepare dinner. We will cook for about 3 hours, so you then get some time to relax or to drive to town. We meet for aperitif at 7:00 pm, and head back to the kitchen for the last minute prep if necessary.
You are invited to pop into the kitchen to plate up each course, but you can do as little or as much as you like: your holiday, so your time, your rhythm!
DAY TWO
On day two of the cooking course side of things, we'll have a morning session in the kitchen, where we will prepare and cook lunch together. Weather permitting, you'll be able to enjoy lunch in the garden under the gorgeous linden trees.
After lunch we will venture off the the Choclaterie in Nérac, the very place that inspired Joanne Harris's novel 'Chocolate' (please note: the shop remains closed in July, but we'll still be able enjoy of the below). We'll choose a selection of delightful chocolate and be on our way to the historic part of the town. Taking a leisurely stroll along the river, crossing the ancient bridges leading through to the cobbled roads and paths. Our destination: the main 15th century built chateau from where we'll enjoy a glass of champagne, or two, and of course the chocolate. As the afternoon comes to an end, we shall make our way back home to rest.
To finish off a beautiful day as the week comes to a close, we will take you for dinner to one of the local resturants.
Departure is on Friday morning. The room is yours until 11.00am if you have your own vehicle, but drop off to Tonneins station is for the 8.10am train.
The order of days may vary. The French cooking course excursions may depend on the season and on their availability, we will visit some producers among the following: honey producer, duck farm, chocolatier, prune farm, wine maker, fish farm ... as well as producers markets.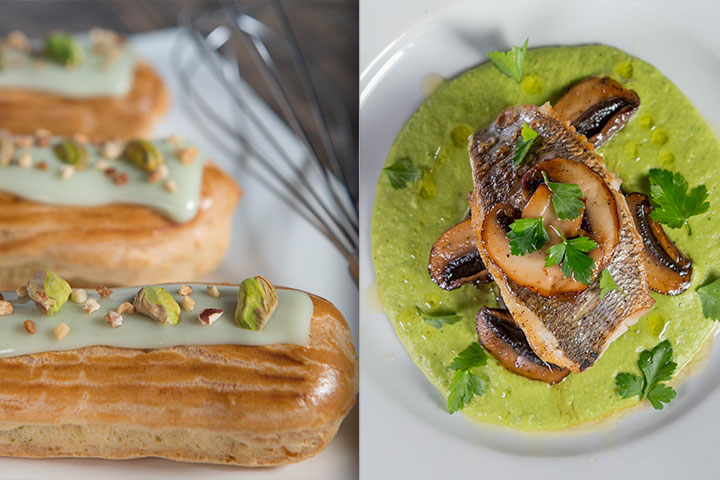 With over 16 years behind us, we know a thing or two about cooking and baking. But it's also the care and attention we provide to our guest's that is also part of your experience with us. Our reward, is your satisfaction. From the moment you make contact with us we'll take good care of you. Of course, you don't have to take our word for it, you can read the latest reviews here.