Both Cooking & Baking for many come hand in hand. So for those of you that have a passion for Cooking & Baking why not join us on a combined week of the two.
Mixed Week Itinerary
Sunday
Arrival from 4:00pm. You settle into your room and we meet up for drinks and canapés at 7.00pm to discuss our program. You then enjoy a three-course dinner.
Cooking Course
Day One & Day Two
We leave after breakfast to go to a market or visit a producer, to get our ingredients. We will also make a few detours on the way to see the pretty villages of the area. We come back for lunch.
At 1.00 pm, we meet in the kitchen, where everyone gets involved in a real team effort to prepare dinner. We will cook for about 3 hours, so you then get some time to relax or to drive to town. We meet for aperitif at 7:00 pm, and head back to the kitchen for the last minute prep if necessary.
You are invited to pop into the kitchen to plate up each course, but you can do as little or as much as you like: your holiday, so your time, your rhythm!
Patisserie Course
Day One
After breakfast we go to a local patisserie to sample a few classics with a nice cup of coffee. This will give you a precise idea of the presentation we will be aiming for when we reproduce them in our kitchen. We come back for lunch.
At 1.00 pm, we meet in the kitchen, to create our own pastries, which will be served for dessert that very same night. We will be in the kitchen until about 4:00 pm, so you will get some time to relax before we meet up at 7:00 pm for an aperitif followed by dinner.
Day Two
After breakfast we meet in the kitchen, to start baking. We will stop for lunch and get back to the kitchen to finish our pastries. You will then again get some time to relax before the aperitif and dinner. Once again, your creations will be served for dessert that very same night.
Departure is on Friday morning. The room is yours until 11.00am if you have your own vehicle, but drop off to Tonneins station is for the 8.10am train.
The order of days may vary. The French cooking course excursions may depend on the season and on their availability, we will visit some producers among the following: honey producer, duck farm, chocolatier, prune farm, wine maker, fish farm ... as well as producers markets.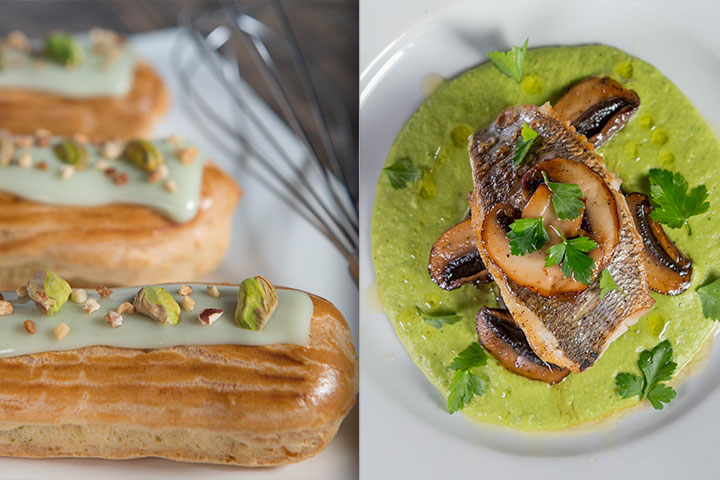 What's Included
Free collection and drop off

To / From our local train station on all residential courses
Small Groups - No Overcrowding

Maximum of six participants so everyone receives individual attention and enough workspace
Food glorious food

Continental breakfast every day (bread & croissants, fresh fruit, fresh milk, coffee, English tea, cereals, yogurts, local jams honey)

Lunch every day

Three-course dinner every night
Drink, whatever your tipple

Welcome drinks and canapés
House aperitif before dinners
Local Wines with all lunches and dinners
Water, tea, coffee and cold drinks & beers throughout the day
Coffee & English tea making facilities in your room
16 Years of experience

No Demonstration Watching - All Classes are Hands-on!

All ingredients, equipment and apron provided

Recipe folder to take home
Comfortable Accommodation

Accommodation (details on our accommodation page), on all residential courses

Linen, towels, organic shampoo & shower gel, for the duration of your stay
Discover the Countryside by bike

We have bikes on-site free for your use to venture out and discover the surrounding countryside
Children are more than welcome (they only have to be tall enough to reach the workbench) under their parent's supervision.
The courses take place from February to November, just enquire about the dates that suit you. If you would rather join an existing party, view our full booking page.